Internet Backs Worker Who Called HR's Bluff
One employee recently pledged not to work "for free," submitting her resignation letter when higher-ups did not pay her higher wages after she took on more responsibility.
That employee, Anna, lives in France and goes by the username "zebedi_ogre" on Reddit. She formerly worked as an education service provider and was a project manager, then acting project lead. She posted that her human relations manager threatened her so she quit, telling the backstory of her resignation on the platform's "Antiwork" forum. The post received more than 8,700 votes and nearly 500 comments.
She said her former unspecified company is small and that the CEO allegedly "has nothing but contempt" for the labor force.
"I worked incredibly hard to keep a valuable project running and provide leadership," Anna told Newsweek. "That wasn't rewarded or recognized and worse, they treated me disrespectfully and tried to continue exploiting my skills for free. I'm glad I resigned because it showed them I wasn't going to be treated like that and be taken advantage of."
Anna explained on Reddit that their boss quit last year "largely because they wouldn't give him any raise or recognition," so she volunteered to be the acting lead on a $45 million project. She initially asked if they would receive a salary increase or bonus due to "taking on an entire second job's worth of duties," but the employer declined to pay more.
"I would have quit then but we had just employed a new person and I was now their line manager and I couldn't bring myself to abandon them weeks into a new job," Anna wrote.
But when the employer eventually had an official job opening for that same role, they didn't promote this specific employee and only encouraged them to apply. Anna said they applied "because I figure at least I can get paid for what I am already doing."
Anna's final interview was held last week. She met with human relations, who was also her line manager and hiring manager. The individual was allegedly called "a seriously nasty piece of work" and compared to Rasputin.
The interview quickly went sour. HR not only allegedly told Anna that she wasn't being promoted, but that no applicant would be hired at all. When she mentioned all the reporting, planning and directing they had conducted involving 30-plus employees over a six-month period, HR said "that acting lead is not the same as being the lead."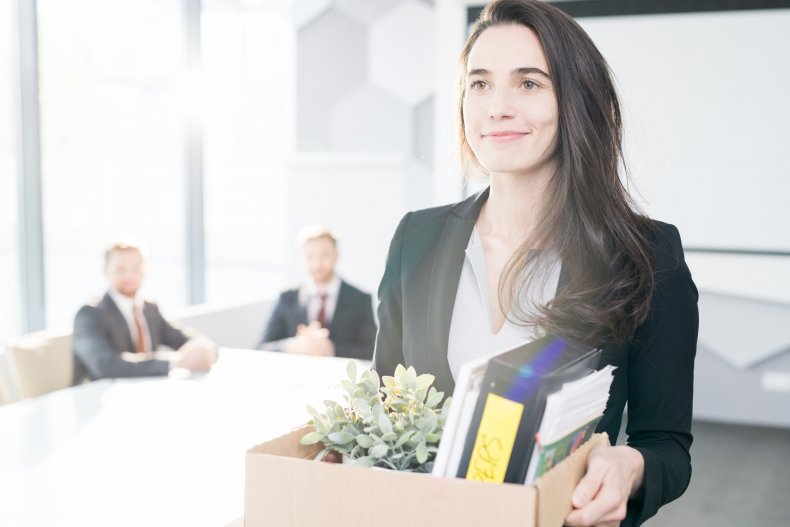 Things got worse. When Anna asked if HR observed how "unappealing" the situation was, to continue doing the same job for a position in which they were just rejected, HR reportedly did not see the issue.
"I just laughed at this point," Anna wrote. "I say that I do have other options. And with no further provocation [HR], in an attempt to call my bluff and/or frighten me, says, 'Perhaps we should discuss your last day then.' To which I replied that yes we should. End of meeting."
"I've always gritted my teeth and done the 'sensible' thing but they can go to hell," Anna wrote. "You don't pay me for all my work? Then I won't work for you at all."
Anna handed in her resignation letter on Tuesday, adding that her team of workers said she "led the project brilliantly and were appalled by how I had been treated."
When asked about references for a future position, Anna wrote that her old boss would provide a "glowing reference anytime."
"This is crazy," one Redditor said. "Instead of saving a ton on training a new person, being confident you can handle the job, and knowing you're a team player for helping out so long with no compensation, they do this. HR staff can be CRAZY, and the hiring manager is in this case an idiot I'd leave as well. Good luck!"
A 2020 report by the McKinsey Global Institute analyzed 1,095 local labor markets and predicted future trends, including the growth of automation, an increasing geographic concentration of employment, the shrinkage of labor supply, and a shifting mix of sectors and occupations.
The report stated that total employment in the 27 European Union countries, in addition to Switzerland and the United Kingdom, rose by record highs to nearly 10 percent between 2003 and 2018. However, it was estimated at that juncture that up to 59 million European jobs, or 26 percent of total jobs, were at risk due to reductions in hours or pay temporary furloughs or permanent layoffs.
Fields estimated to be most impacted included customer service and sales, food services, and building occupations—which accounted for half of all European jobs at risk at that time.
"The impact will be unevenly distributed, with significant differences among sectors and occupations and, as a consequence, among demographic groups and local labor markets. [T]he jobs most at risk from pandemic job losses overlap to some extent with those most vulnerable to displacement through automation," the report said.
Data released Tuesday by the U.S. Bureau of Labor Statistics showed that on the last business day of March, the number of job openings was little changed at 11.5 million—"the highest level in the history of the series which began in December 2000."
Another record involved approximately 4.5 million Americans quitting their jobs in March.
Anna told Newsweek she has job interviews lined up but nothing is set in stone. She said she has enough money to get by for a little while—"say three months if I'm super careful," she said.
When asked if she was satisfied with her resignation and finding herself in her current situation, she replied, "Absolutely."